Jul 20, 2017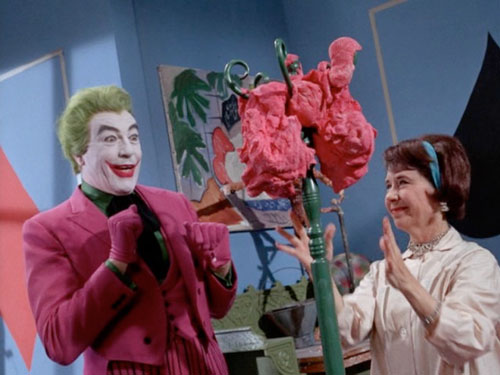 If you thought our Black Widow episode was a total camping trip, our take on season two's final Joker appearance may be even more so! Intentionally or not, Caesar Romero's take this time has plenty of gay overtones. At the same time, the Joker is somehow more emotional and human this time. But has he become less intelligent?

But the arc's stated subject is pop art, and its opinion is: it sucks. But Stanford Sherman's don't-know-don't-care attitude about pop art (and sniggering at critics' reception toward it) is part of what makes this arc so hilarious.

Also, what does this episode say about the real mission of Batman and Robin?

Plus, in the Bat Research Lab, the Legends of the Superheroes cowl mystery continues; the surprising answer to the question "Just who is Mother Machree, anyway?"; and Tim's upcoming visit to the William Dozier archives (scroll down the left-side menu for the link to "Scripts Television", and send us your wish list by August 2!)

Also, the Voivod version of the Batman theme, and your mail!