Aug 17, 2017
This time we convene in the place where the batmania started (for us): Centerville, Iowa! This is the town where we lived when we first fell in love with the show. We happen to be here just as we've finished watching season two, and we take the opportunity to compare the first two seasons. (Few would argue that there wasn't a dropoff in quality as the series progressed, notably in the writing and the type of humor presented...or, does it just seem that way because the Lorenzo Semple take on the concept is our favorite?)
Taking the slide in quality as a given, we have to ask: Was this slide inevitable, or could it have been avoided? What were the reasons for the slide? What's the best attitude to take as we advance, trepidatiously, into season three?
Also, Ric Napoli's very interesting take on the Batman theme (and on our podcast!); a look back at our 1977 auto show meetup with Adam West (which cowl was he wearing??); and a Bat-mailbag overflowing with your thought-provoking missives!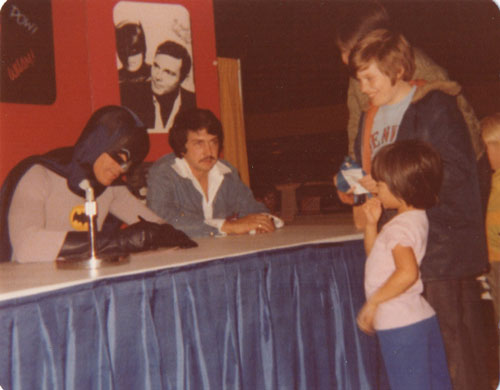 Paul in blue shirt. Sister Debra in front. Tim hiding behind Paul. Seated next to Adam West: Mr. '70s Guy.
BELOW: Flocking-covered Batmobile.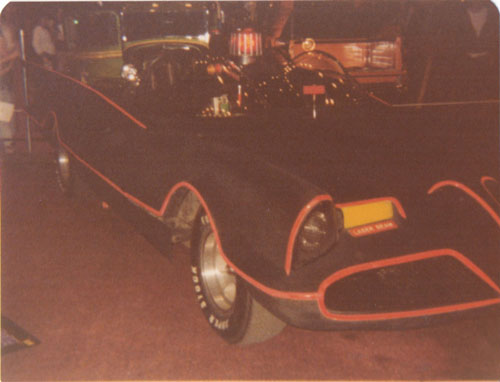 Comparison of the cowls (CLICK TO ENLARGE): Adam West was clearly wearing the "Legends of the Superheroes" cowl in 1977 -- but how could this be, if it didn't exist until 1979??