Nov 2, 2017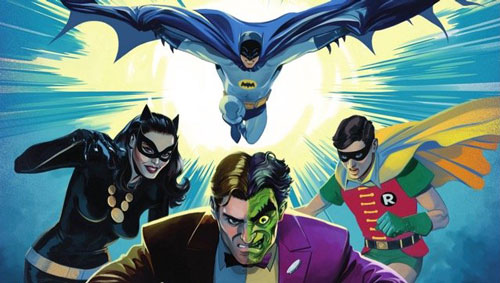 At last, Batman '66 faces Two-Face! Adam West's final turn as Batman pits him against his classic-TV contemporary, William Shatner, in the animated release Batman vs. Two-Face! Producer James Tucker has said that last year's Return of the Caped Crusaders imitated the feel of seasons 2 and 3 of the original TV show, while this one has a season-one tone... but Tim and Paul beg to differ.
The film again prompts us to wonder: would Two-Face have worked as a '66 villain? Why did they choose this particular villain for the second movie?
Meanwhile, in the Bat-Research Lab, a breakthrough in the search for answers on the Legends of the Superheroes cowl! And your mail inspires more conversation about whether Batman '66 was a sitcom, and just what qualifies to be called that.
Adam West confesses: "I have some gear!"