May 30, 2019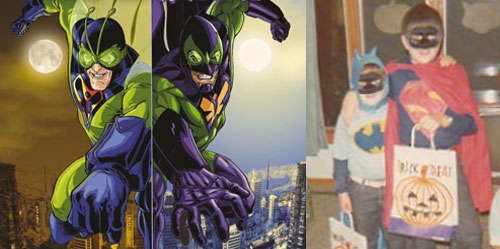 What's this? An episode of To the Batpoles that isn't about Batman? Well…on the surface, no, it isn't. But in Ahoy Comics' series The Wrong Earth, Dragonflyman and Stinger act an awful lot like the '66 versions of Batman and Robin, and the Dragonfly seems very similar to Frank Miller's Dark Knight! Liberated of the copyright owner's limitations on how Batman and Robin can be used, what are writer Tom Peyer and artist Jamal Igle saying about Batman with this series?
Also in this episode, back from the mists of time, an installment of the Batman Radio Show, starring Tim (age 10) and Paul (age 7)!
Plus, Pablo Beltran Ruiz y su orquesta's version of the Batman theme, and your response to our talk with Oscar, the William Dozier fanboy!